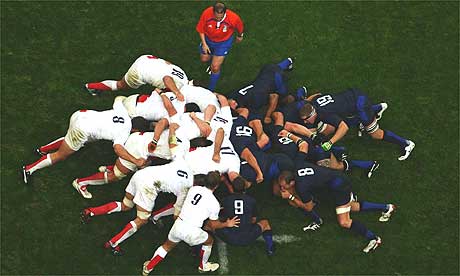 "
...having chosen the terrain, each charge achieved the maximum impact
." So Desmond Seward describes the 13th century military victories of the Christians during the Reconquista (
The Monks of War
, 164).
No matter what you're doing you stand a better chance of winning if you choose the contest. 2009 marks a turning point in equality legislation in Tennessee because our community has chosen the battle sites more than ever before. For the most part, we've played defense since the 1990s. 2005 marked the high point in the defensive battles when a flood of anti-equality legislation was introduced in the General Assembly and the marriage amendment passed in its required second legislative session to go to the ballot in 2006.
Those battles forced us to develop a strong defense. But even if the other side isn't scoring, it's a lot like a scrum in rugby. If the ball's not heading your way as it comes out, your scrumhalf is still yelling, "Losing."
Despite the fact that we still have to take defensive positions on adoption and other bills, we've added a mildly successful offense this year. TTPC worked with legislators to introduce a hate crimes bill that garnered about 20 House sponsors and actually made it out of a House subcommittee. The Shelby County non-discrimination resolution that passed in June wasn't the ordinance that we wanted, but it provides more protections than were available before the Shelby County Commission took up the matter. The Metro Nashville non-discrimination ordinance passed the Council with a few votes to spare.
In all these cases, choosing the policy target and the venue for its hearing made a profound difference by throwing our opponents off their game. 2009 has also revealed that our level of organization is solid, which
even our opponents have been forced to admit
. Giving people something positive to fight for enhances the organizational efforts by attracting new and battle tested troops hungry for victory. Even in a socially conservative state like Tennessee, when the elements of choice and organization are yours, you have an even shot at winning. Expect more of the same in the coming months.
-Chris Sanders